Groups to Support

Dear BEN Readers,
In lieu of a subscription, I respectfully request readers to consider making a contribution to several chosen BEN charities. This year, I have added two groups to the BEN List, The Wilderness Society and the University of Washington/Rose Endowed Student Scholarship. Below is information about the five chosen charities. Please consider giving to one or all five charities listed below. Your gift will support the preservation of our nation's wild places, make a difference in the lives of Alabama's children and help train future rural physicians.
Thank you for your support.
Best Wishes,
Pat Byington
BEN Publisher

***********************************************************
Descriptions and Contact Information
**********************************************************


The Wilderness Society
Attn: Sean Bowie
1615 M Street NW
Washington, DC 20036
call 205-999-7655
https://donate.wilderness.org/05/donatetws

The Wilderness Society's (TWS) story began in the fall of 1934, when a group of forward-thinking conservationists stopped their cars alongside a road in East Tennessee. They stepped out and climbed an embankment, where they sat and debated plans for a new conservation group. Three months passed, and the group met again, this time in Washington, D.C. Their vision for a conservation group made of dedicated land advocates was complete and had a name: The Wilderness Society. The date of incorporation was January 1935. TWS's founders included Aldo Leopold, author of A Sand Mountain Almanac and Benton MacKaye, the Father of the Appalachian Trail.
Since January 2006, BEN Publisher Pat Byington has served as a Southeast Senior Associate with The Wilderness Society. Contributions will go toward TWS conservation efforts in the Southeastern United States.
* Make checks payable to The Wilderness Society. Please reference Bama Environmental News on the check.

Norman James and Ethel Jenisch Rose Endowed Student Scholarship
UW Medicine Development
1325 Fourth Avenue, Suite 2000
Seattle, Washington 98101
https://depts.washington.edu/meddev
The purpose of the Rose Endowed Student Scholarship is to provide financial assistance to medical students interested in pursuing a career in family medicine in a predominately rural setting. Awards may be based on academic merit or financial need, or a combination of the two. Preference shall be given to American Indian and Alaskan Native students, or other underrepresented minority students.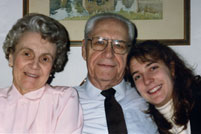 This scholarship was originally established in memory of Dr. Norman James Rose by his wife, Ethel Jenisch Rose, and his son, Norman Jenisch Rose, as a memorial to Dr. Rose for his outstanding career in family medicine and public health. Upon Mrs. Rose's death in 2003, and through renaming the endowment, Dr. Norman Jenisch Rose chose to honor and remember both of his parents and the close partnership they had throughout their marriage. Click here for more about this scholarship.
Norman James and Ethel Jenisch Rose were the grandparents of Kathy Rose-Byington, wife of BEN Publisher Pat Byington. Make checks payable to UW Foundation/Rose Endowed Scholarship.
Send checks to:
UW Medicine Development • Attn: Donna Caliri
Campus Box 358220
Seattle, WA 98195
Or call Donna with credit card information:
(206) 543-6347
calirid@u.washington.edu


Southern Environmental Center at Birmingham Southern College
900 Arkadelphia Road
Birmingham, Alabama 35254
205-226-4934
http://www.southernenvironmentalcenter.org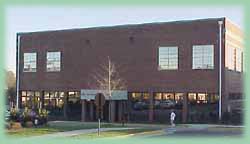 The Southern Environmental Center (SEC) is the largest educational facility of its kind in Alabama. The purpose of the SEC is to show individuals how they can protect and improve their local environments. Complex topics like air pollution and water quality are presented in a way the general public can comprehend. More than 20,000 children visited the center and various 'ecoscapes" in 2006.
Make checks payable to Southern Environmental Center. Please reference the Bama Environmental News on the check.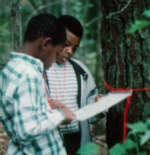 Camp McDowell Episcopal Church Camp
(Pat Byington Scholarship)
105 DeLong Road
Nauvoo , Alabama 35578
205-387-1806
http://www.campmcdowell.com
The Pat Byington Environmental Scholarship at Camp McDowell was created in 1998 by the Alabama Environmental Council in honor of Pat Byington's 8 year tenure as the organization's executive director. Proceeds help children from low income families attend Camp McDowell's environmental camps.
Make checks payable to Camp McDowell (note the scholarship on the check)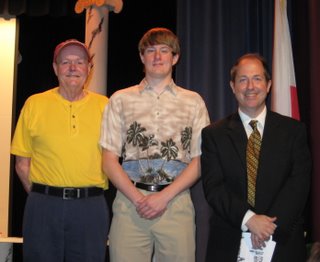 That's Jeff Carr (center) and his dad with me - last year's
winner of the SHS Award. Way to go, Jeff!

Sheffield High School "Environmental Public Service Scholarship"
Sheffield Education Foundation
c/o Dr. Richard Gardner, Ed. D.
300 West Sixth Street
Sheffield, Alabama 35660
256-383-0400
Click here for website

The Sheffield High School "Environmental Public Service Scholarship" was created in November 2001 to support graduating students from the high school Bama Environmental News publisher Pat Byington attended. Over the past five years, Mr. Byington donated his commissioner's salary from his service on the Alabama Environmental Management Commission to the scholarship fund. Additional monies raised will help continue the scholarship program beyond Mr. Byington's service on the Commission, which ended September 30, 2006.
The scholarship honors a student who has shown an interest in the protection and enhancement of Alabama's environment and natural heritage. A student in need of financial assistance is preferred but not required.
Please make checks payable to the Sheffield Education Foundation (note the scholarship on the check).